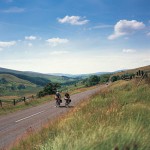 National Geographic voted Irelands walks as 'best in the world' in 2011. With ancient sites older than the pyramids, the highest sea cliffs in Europe and some of the most spectacular landscapes in the world – it's easy to see why.
Walking and cycling through stunning Irish landscapes is an option every day on an Explore Ireland Tour where we offer a choice of easy to moderate tracks and trails to accommodate all levels. With gentle rambles along golden beaches and through native woodlands to the more exhilarating hikes or bike rides through desolate valleys and out along rugged Atlantic Peninsula's – there's no pressure to participate, just gentle encouragement to enjoy
We bring our own bikes with us, so all walking and cycling costs are included in your tour price, and you can decide for yourself each day whether you'd like to stroll, peddle, or maybe even take a well-earned rest to enjoy the scenery from the back of the bus. See our main webiste www.exploreirelandtours.com for our full range of tours for 2012.
Here are ten of our favourite walks and cycles in Ireland: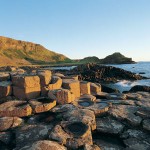 1. Causeway Coastal Walk
The jewel in the crown of the fabulous coast of Antrim, The Giant's Causeway is a World Unesco Heritage site and is ranked alongside Mount Everest for its importance to humankind.
As you walk along the most striking section of the Causeway Coast, you'll hear tales of how ancient giants used the 40,000 hexagonal columns to build a causeway to neighbouring Scotland.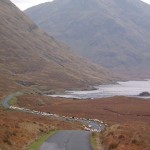 2. Cycle Doolough Valley
A magical landscape of bogs, mountains and lakes waits for those who opt for this magnificent cycle.
Quiet country roads take you through the desolate, but stunning, Doolough Valley in county Mayo where you will learn the poignant history of the famine era.
This was the site of a tragic Famine walk, which took place in 1849. In icy weather, 400 hundred people died along the road as they walked from Louisburgh to Delphi and back.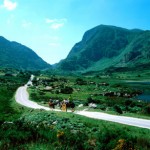 3. Gap of Dunloe Walk
This walk begins with a boat ride through the magical Lakes of Killarney before walking through the glorious black valley, through what is known as the Gap of Dunloe.
The walk takes you through an awe-inspiring mountain pass where the scenery is a fantasy of rocky bridges and clear mountain streams ending with a well-deserved pint at Kate Kearney's traditional pub.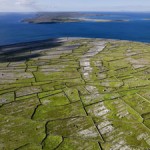 4. Aran Islands Cycle
A landscape epitomising Irish nature and culture entwined where life on this remote Atlantic Island is best experienced on bike as you explore the myriad of country lanes fenced by miles of traditional dry-stone walls.
At the end of the track a short walk takes you up to the ancient stone fort perched perilously on the 100ft towering cliff edge, and is well worth it for the spectacular views.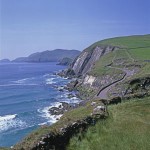 5. Slea Head
Discover Dingle's ancient past on a cycle along Slea Head to the 'edge of the world' – Ireland's most westerly point.
This Gaeltacht area (Irish speaking) revels a dramatic landscape, but its gentle gradients and sweeping vistas make this a truly heavenly cycle.
6. Mullaghmore Head
A short, but truly magnificent walk from the pretty fishing village out along the headland where the rocky coast of county Sligo slices into the Atlantic Surf below.
7. Sheeps Head Peninsula Walks
Enjoy the peaceful nature of one of Ireland's most rural and tranquil peninsulas where sheep outnumber people.
One of the quietest and most remote parts of Ireland, this West Cork peninsula possesses a silent beauty where you can enjoy our trail in picturesque solitude.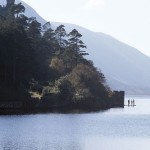 8. Cycle Donegal Highlands
Isolated and rugged, you will be treated to a feast of serenity as you peddle through the dramatic glen of Glenveagh National Park, complete with its magical Glenveagh Castle where golden eagles soar the skies.
9. Killary Fijord Famine Track
This stunning walk takes in the magnificent Killary Fijord along an old trail known as the 'famine track' because of the ruins of the old famine houses that litter the path.
Below, the pristine water of the fijord is dotted with mussels' beds, which are tended by local fishermen.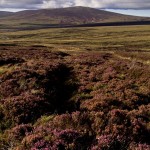 10. Adrenaline on Sally Gap in Wicklow Mountains National Park
This cycle showcases the Wicklow Mountains in all their glory as it passes above the dark and dramatic Lough Tay. It's not one of our easiest rides but certainly one of the most spectacular.